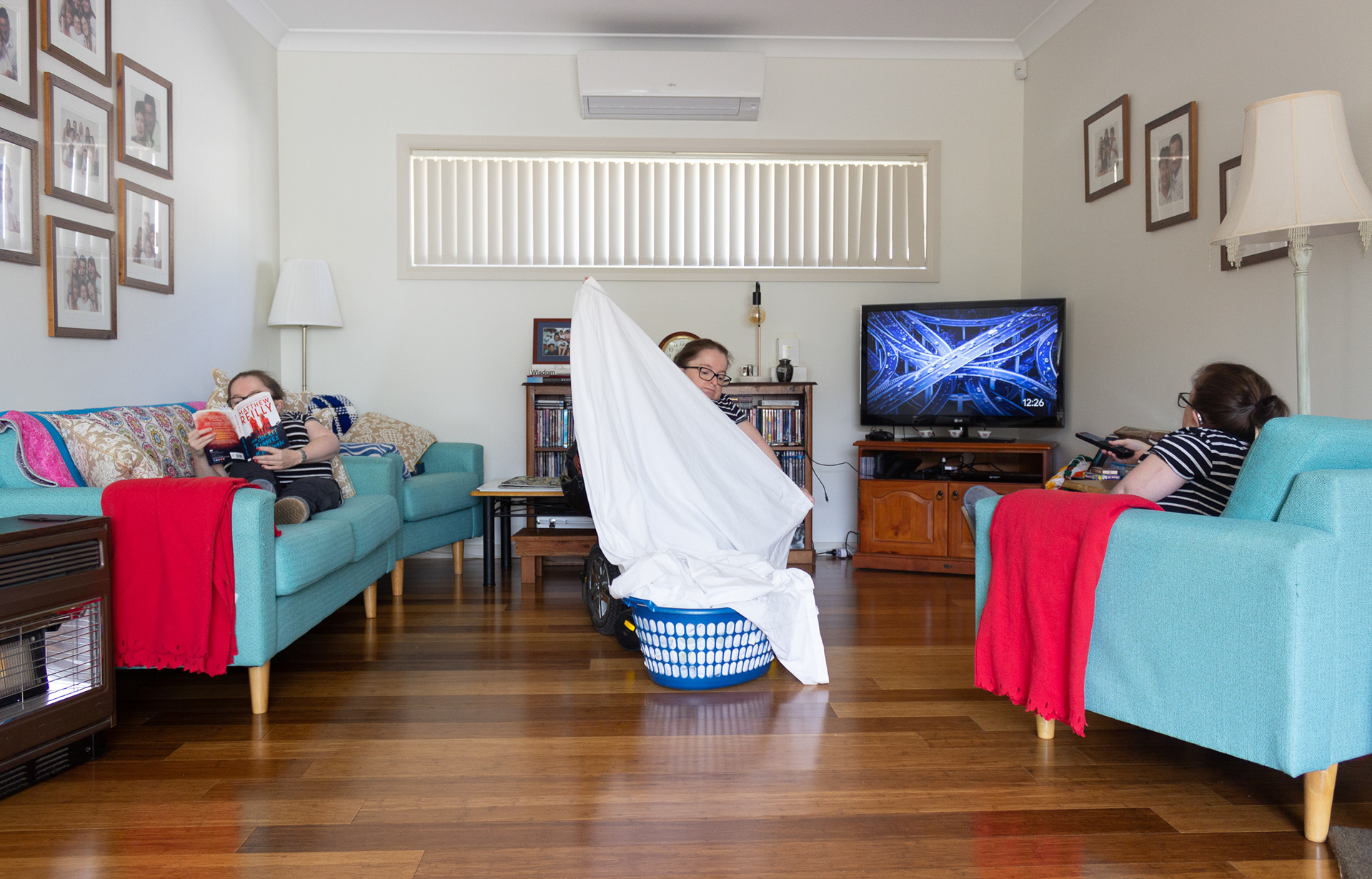 If we were all the same, we'd have nothing of interest to talk about!
Finally, the dirtiest word of them all… normal. 
Normality to me is a construct set by society that no one can seem to keep up with. If there's one thing turning 30 taught me, it is to stop caring about what the rest of the world think of you. 
For a long time I tried to blend in with everyone around me, but it became too exhausting. I feel my purpose in life is to educate and to advocate awareness on disability life. The way I might do my washing, or sit in a chair to watch TV and read a book may look awkward and uncomfortable for you, but to me it's my normal. We all have our own normal; the world needs to redefine how we shape normality to our own selves. 


Equal imbalances
It's obvious when looking at me that I have a disability. But most don't know I'm also almost profoundly deaf and I learnt AUSLAN at the age of 15. A few years previous I was told my hearing was deteriorating so rapidly that there was a high chance I may become profoundly deaf. I learnt how to communicate with my hands and read body language but thankfully I went on a drug trial that slowed the deterioration and the loss plateaued. 
A small side effect of losing my hearing however, was how much more heightened my sense of smell became. I rely on all my other senses where my hearing fails me, taking visual cues from people around me, including my cat. 
The nature of disability is the ability to always adapt. 


Rosie the Rapper!
I have always been inspired by Rosie the Riveter. The woman who fronted the 'We can do it!' posters during the Second World War. 

The empowerment of what it means to be a woman says it all in her pose. So I did my take on it. 
Only I feel like my transformation went a little awry and I felt I ended up as the missing member of Salt-N-Pepa from the 90's, so a friend suggested Rosie the Rapper! I want to show the world that regardless of my six wheels and my disability I am just as capable, just as sexy, just as fierce and just as independent. 
(Disclaimer: I had way too much fun with this.)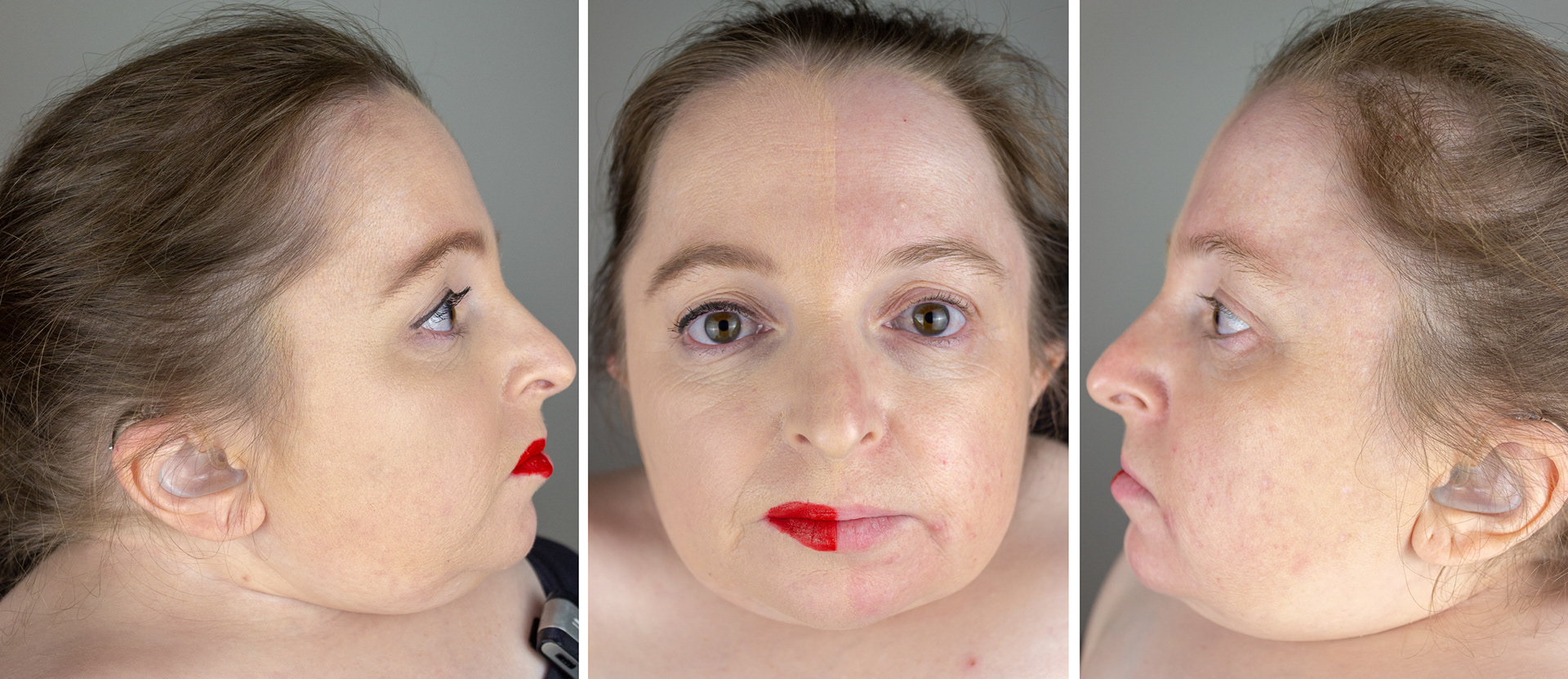 The many faces of Mel…
I use make up on a regular basis. I consider it my suit of armour. It hides my vulnerability when I need to be strong, it makes me feel empowered when I need to overcome adversity and it gives me a sense of intelligence I otherwise have to dispel when in public. It hides my pain, it makes me feel sexy, and it makes me feel alive. I'm a self-described L.O.L. (Lover of Lipstick). At any given time I've always got at least two lipsticks in my pocket. Because you should never underestimate the power of a red lip!
In preparation for the Rosie transformation I shot photos of myself getting ready, and then after I took shots of my half face, reinforcing the power makeup has, and how much I feel transformed when I am wearing it compared to not. 
I was told growing up beauty comes from within, but sometimes the beauty on the outside can enhance it all the more.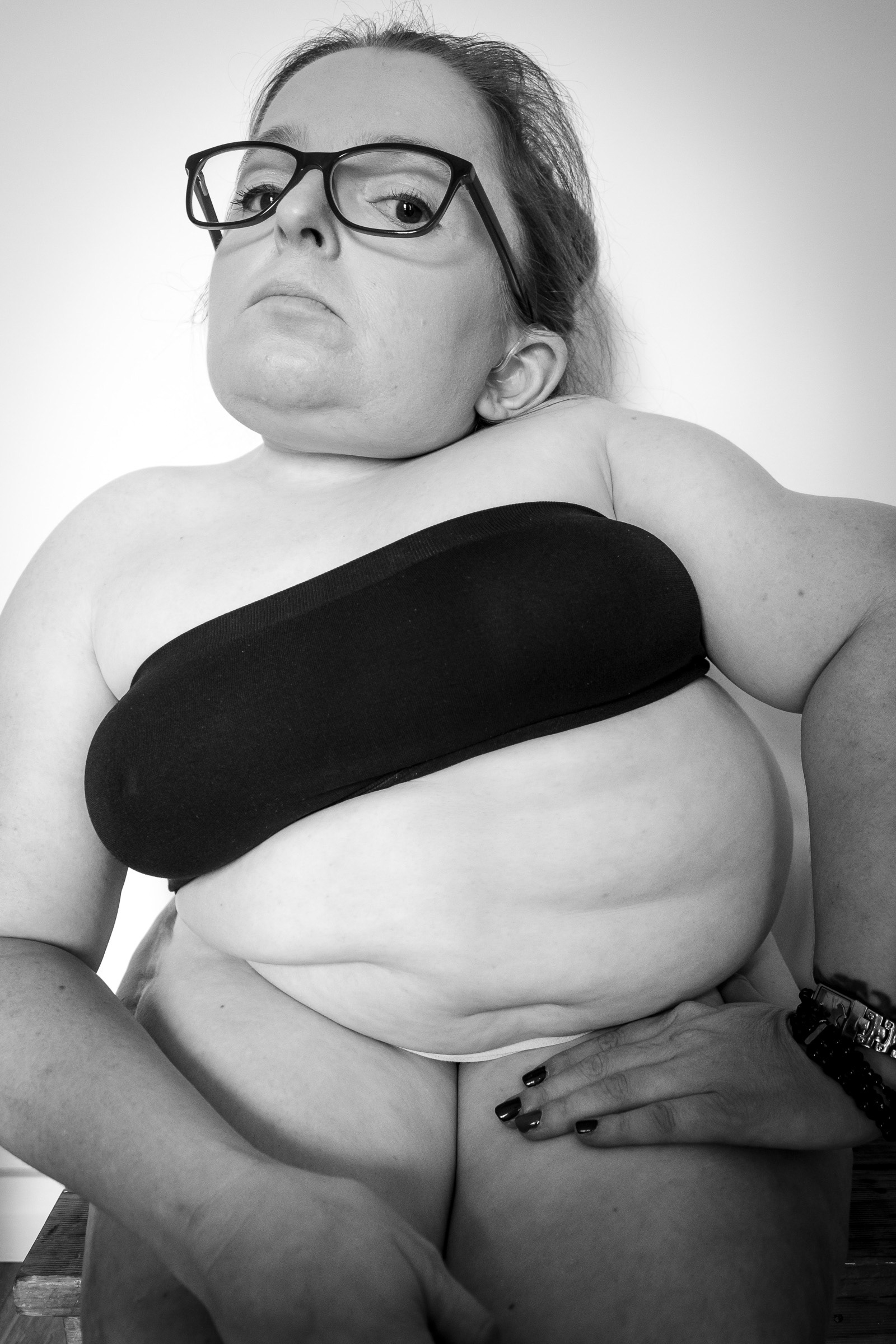 I like to think I'm as much of a storyteller as I am a photographer.
This project has really pushed me on how I view myself in comparison to the rest of the world. While I try not to compare myself to the rest of the world, I still catch myself doing it.
I was quite nervous at first. I had planned in my mind the outcome of photographs I wanted to create around the topic of appearance. The end result was somewhat confronting for me, to the point where doubtful thoughts begun to creep in. 'I've gone too far!' 'This is grotesque!'
That nagging voice, reminding me I'm different.
As women we're constantly told beauty is always from within, so I wanted to flip that on its head. The clothes I wear, the makeup I put on, is my suit of armour to help me fit in with the rest of the world. It gives me confidence and empowers me. That side of me people see all the time. Very few people have seen the other. This is the side of me where I'm at my purest, incredibly raw and vulnerable. I protect this side very fiercely, which is why I feel quite proud to have pushed myself outside my comfort zone. I started with a close-up of my face, and slowly I grew more courageous to zoom out entirely. 
This is me.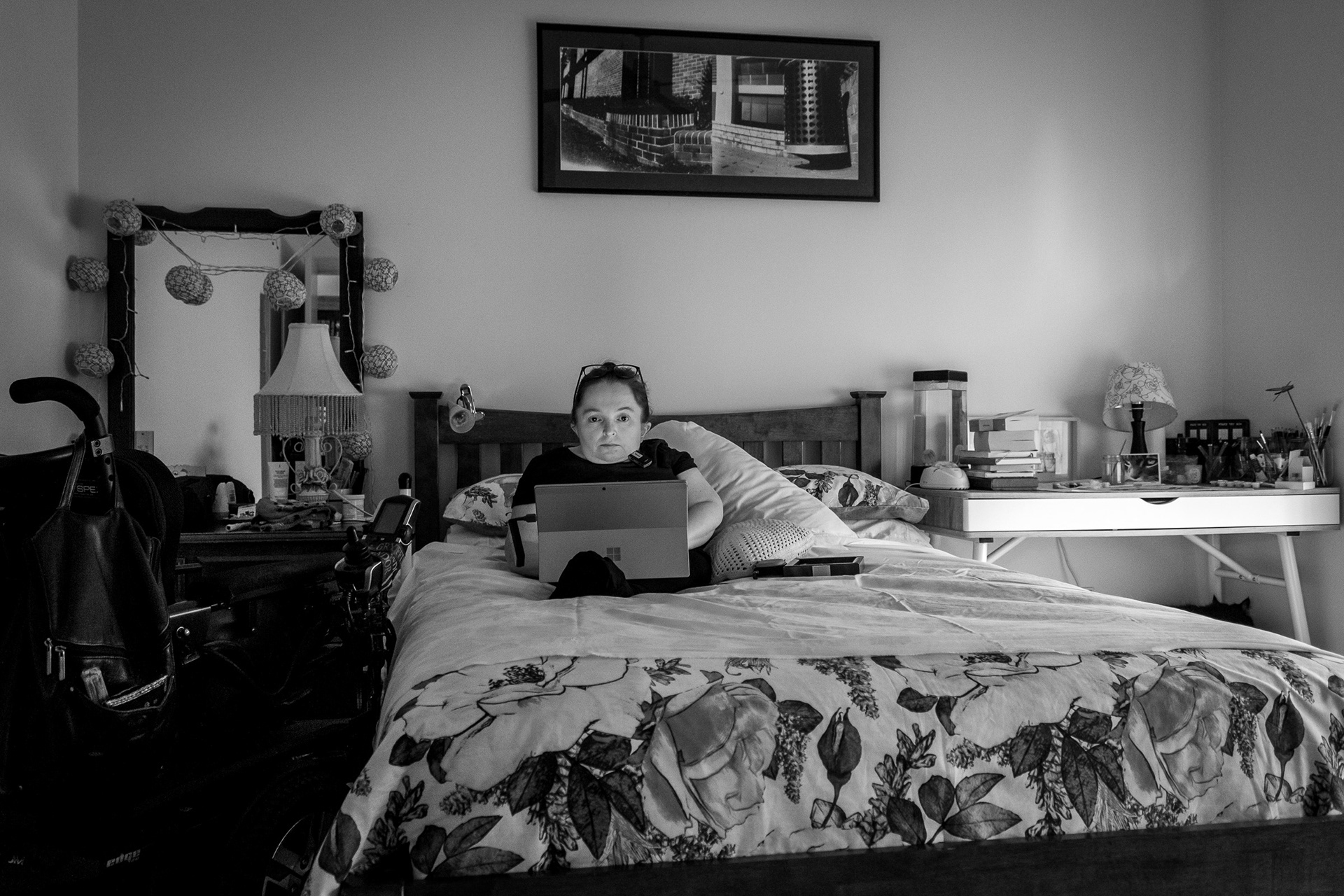 The boudoir
A woman's bedroom was once considered her sacred place. For me it is also. My door is rarely closed because I share it with my cat (whom you can see if you look closely on my basket of wool under the table on the right). My bedroom is my escape from the world, when I need to free my mind. I have a low long window that looks out onto the world, and some mornings when my pain is too much or my mind isn't ready to face the world, I watch the world go by. 
This is my sacred space. 
Being disabled your sexuality and sex life is rarely brought up in conversation with people. When I finally saved enough money to buy a new bed at 24 I opted to buy a double bed, (I did have three cats at the time and there wasn't enough room for us). When I mentioned this to my aunty she raised an eyebrow at me and asked 'why do you need a double bed?' 
Ever since I was a little girl the conversation of boyfriends and getting married was always directed towards my younger sister and never me. Even to this day my family find it a taboo topic of discussion with me.
Regardless of your disability, we all have needs. 
Welcome to my sacred space.